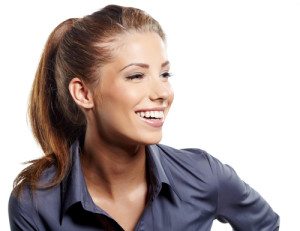 We understand the importance of a beautiful smile. A gorgeous smile can boost your confidence, improving your appearance and your self-esteem. Unfortunately, many of us have teeth marred by common smile issues such as discoloration and misalignment. Thankfully, your Houston dentist, Dr. Deborah Gennero, offers a procedure that completely transforms your smile in as little as two visits. In today's blog, Dr. Gennero offers a fun quiz to discuss the benefits of porcelain veneers.
Cosmetic Veneer Quiz
1. True or False: Veneers are made from thin shells of porcelain.
2. True or False: Porcelain veneers are placed on the front of a patient's teeth.
3. True or False: Veneers address multiple dental imperfections.
4. True or False: Porcelain veneers provide long lasting restoration.
Answer Key
1. True. After preparing your tooth, Dr. Gennero takes an impression of your smile. An expert ceramist then uses the impression to craft your custom-made veneers from dental porcelain. Dental porcelain mimics the translucent appearance of tooth enamel. In addition, the porcelain can be shaded to blend with your surrounding teeth, providing natural looking restorations.
2. True. Once your restorations are complete, your Houston TX cosmetic dentist will check the fit and apply your veneers using a powerful bonding agent.
3. True. Porcelain veneers allow Dr. Gennero to correct the appearance of crowded or crooked teeth, mask permanent teeth stains, close gaps between teeth, repair broken or fractured teeth, reshape malformed or damaged teeth, and lengthen worn down teeth.
4. True. With the proper care, your veneers can last for decades. Simply maintain regular dental habits, such as brushing your teeth twice a day and flossing once. Also, don't forget to attend routine checkups and cleanings. These simple measures help cleanse your mouth of harmful bacteria and stray food particles, protecting and preserving your restorations, as well as your smile.
Schedule a Visit with Your Houston TX Cosmetic Dentist
Porcelain veneers can return your smile to full function and appearance. For more information, contact your Houston TX cosmetic dentist, Dr. Gennero, today. Call 281-578-6200 to schedule an appointment or a consultation. Our 77084 dental office gladly treats patients in Clear Lake, The Woodlands, Katy, Sugarland, and surrounding cities.