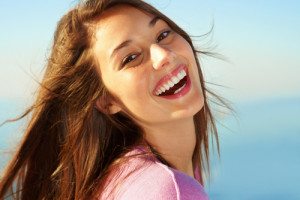 We all want our smiles to be dazzling and bright. According to a recent Kelton Research study, people with esthetically pleasing smiles are considered both more attractive and successful. In fact, a large portion of the people polled for the study went on to say that a smile is one of the first things they notice when meeting someone new. Whether you want to make a great first impression or look your best for a job interview, a gorgeous smile is important. Unfortunately, many people suffer from dental imperfections such as misalignment or permanent stains. Thankfully, your Houston dentist, Dr. Deborah Gennero, provides a dental procedure that can offer instant smile rejuvenation. In today's blog, Dr. Gennero provides a fun and informative quiz on the benefits of porcelain veneers.
Porcelain Veneer Quiz
1. True or False: Porcelain veneers are placed directly on a patient's front teeth.
2. True or False: Porcelain veneers mimic natural tooth enamel.
3. True or False: Porcelain veneers repair and restore dental imperfections.
4. True or False: Porcelain veneers provide long lasting restoration.
Porcelain Veneers Quiz Answer Key
1. True. Your veneers will be custom-made to blend with your natural teeth. Dr. Gennero will then place your veneers using a powerful bonding agent.
2. True. The porcelain used to make our veneers reflect light in a similar manner as tooth enamel. As a result, your veneers look and function like natural teeth.
3. True. Veneers allow Dr. Gennero to mask permanent discoloration, correct the appearance of misalignment, repair cracked or chipped teeth, close unsightly gaps between teeth, and reshape malformed teeth.
4. True. With proper maintenance, porcelain veneers can offer decades of quality smile transformation.
Schedule an Appointment with Your Houston Cosmetic Dentist
Do you want to learn more about porcelain veneers? Interested in restoring your smile? Then make an appointment with your Houston cosmetic dentist today to discuss our state-of-the-art porcelain veneers. Dr. Gennero offers the latest in general, restorative and cosmetic dentistry. Contact our Houston dentist office by calling (281) 578-6200. We are proud to offer comprehensive dentistry to patients from Clear Lake to The Woodlands, including Katy, Houston, West Houston, Sugarland, the 77084 zip code, and surrounding neighborhoods.