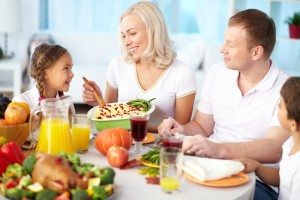 There's little doubt that the holiday season is the eating season. From the big Thanksgiving dinner that many enjoyed last month to the various parties throughout December, to another feast for many on Christmas Day, many people will be consuming more food than normal between now and New Year's. But even as you enjoy that glass of eggnog or those Christmas cookies, it's important to keep what all that sugar is doing to your teeth in mind. Your Houston and Katy dentist, Dr. Deborah Gennero, discusses what happens to sugar once it's in the mouth and what you can do to make sure your teeth are healthy and strong into 2013.
Sugar, Bacteria, and Your Teeth
By itself, the sugar found in pies, cakes, fudge, and other holiday treats does not harm your teeth. However, it does provide a potent food source for the millions of microscopic bacteria that live in your mouth. After consuming the sugar, the bacteria release an acidic by-product. Unfortunately, that acid just happens to be able to destroy your tooth enamel. It is the acid that is the chief culprit in tooth decay.
Sugar & Starch: Teamed to Destroy Teeth
Research has shown, however, that sugar isn't the only holiday food ingredient that these bacteria enjoy. Starches found in complex carbohydrates are also capable of being converted into acid by bacteria. This means that many of the foods we enjoy most during the holidays—and indeed year round—provide a double dose of the substances bacteria love to feed on.
Healthy Foods For Your Teeth
Not all foods are out to destroy your teeth, however. Cranberries have been shown to have broken down plaque in tests, and red wine might also contain bacteria-fighting substances. During the holidays, it is possible to enjoy your favorite treats, but eat them in moderation and try to brush your teeth soon after. Make sure you brush at least twice a day and floss at least once. If possible, avoid snacking, and when you do snack, try to stick to healthy foods, such as fruits and vegetables. The holidays may be full of teeth-damaging temptations, but by eating smart, your mouth can have a bright and shiny new year.
See Your Houston Dentist
It may be the holidays, but the fight against tooth decay doesn't take a vacation. If it's been a while, be sure to schedule a 6-month checkup with your Houston dentist. You can schedule an appointment at our Houston dental office by calling (251)578-6200. We gladly serve patients from Houston, Katy, and surrounding communities.