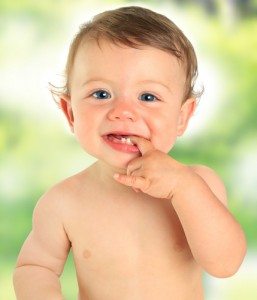 For a mom, nothing brightens your day like your child's smile. With proper dental care, parents can help keep their children's smiles healthy and beautiful. Some parents don't realize that their baby's first dentist visit may be necessary as early as 12 months. In today's blog, Houston children's dentist, Dr. Deborah Gennero, explains what to expect during your child's first dentist visit.
When to See Your Houston Dentist
Within the six months following the eruption of your baby's first primary tooth, you should bring him/her in for an appointment with family dentist, Dr. Gennero. If your child's teeth appear discolored, you may want to bring him/her in earlier.
What Happens During the First Visit
Typically, the first visit doesn't involve treatment. This mainly provides an opportunity for your child to meet Dr. Gennero and our staff while experiencing a calm, relaxed trip to the dentist. For many children, these early visits are crucial to preventing the development of dental anxiety. Dr. Gennero will examine your baby's mouth to ensure his/her teeth are coming in correctly and remain free of cavities. Early detection of any dental problems can allow Dr. Gennero to prescribe necessary treatment before issues such as tooth decay require more invasive procedures.
In some cases, Dr. Gennero may clean your child's teeth or apply fluoride treatments or dental sealants to help prevent the formation of cavities. Fluoride treatments provide teeth with the necessary minerals to strengthen tooth enamel and potentially avoid decay. Sealants are thin layers of plastic applied to the hard to reach back teeth to prevent food particles from being caught between teeth or cavities from forming. She will also provide parents with information on proper brushing, good nutrition, and bad habits to avoid, such as thumb sucking. With regular checkups, your young ones become accustomed to dentist visits and Dr. Gennero can make sure your children are reaching their appropriate dental milestones.
Schedule an Appointment with Your Houston Dentist
Remember, regular checkups and cleanings help protect your children's smiles. Call Dr. Gennero today for a consultation by contacting our Houston dentist office at (281) 578-6200. We are proud to offer comprehensive dentistry to patients from Clear Lake to The Woodlands, including Katy, West Houston, Sugarland, the 77084 zip code, and surrounding neighborhoods.