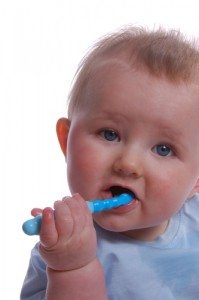 Parents love seeing their little one smile, and they want to keep that smile healthy and bright. Did you know a child's dental care begins the moment the first tooth arrives? In today's blog, your Houston children's dentist, Dr. Deborah Gennero, gives tips on caring for your child's smile.
First Visit
Once the first primary tooth erupts, parents should bring their baby in for a visit with Dr. Gennero. This visit allows Dr. Gennero to ensure that teeth are coming in properly, and check for any signs of dental issues. Typically, no treatments are administered during this visit, but occasionally Dr. Gennero may clean your baby's teeth or possibly apply a fluoride treatment to strengthen tooth enamel. Mainly, the first dentist visit is a chance for your child to become accustomed to the dentist office, and meet Dr. Gennero and our staff. Parents should always bring their children in for regular checkups and cleanings as advised by Dr. Gennero. Your child learns proper dental habits, and routine visits help prevent dental anxiety.
Brushing and Flossing
Even if your baby only has a single tooth, you should begin instilling good dental habits. Using an age appropriate toothbrush and fluoride-free toothpaste, gently brush your child's teeth. Soon, your little one will become used to brushing. As they get older, proper dental care becomes a habit they can easily maintain.
Avoid Baby Bottle Decay
For infants and toddlers, a common, and serious, dental issue is baby bottle decay. Also know as bottle rot, baby bottle decay occurs when a child begins exhibiting signs of serious tooth decay. To protect their teeth, never let your child go to bed or take a nap with a bottle or sippy cup of anything but water. When you sleep, saliva production decreases, and the sugars in milk and juice coat the teeth. As bacteria break down the sugar, oral acids increase.  Soon, tooth enamel is weakened and your baby's teeth become vulnerable to tooth decay.
Schedule an Appointment with Your Houston Dentist
Remember, regular checkups and cleanings help protect your children's smiles. Call Dr. Gennero today for a consultation by contacting our Houston dentist office at (281) 578-6200. We are proud to offer comprehensive dentistry to patients from Clear Lake to The Woodlands, including Katy, West Houston, Sugarland, the 77084 zip code, and surrounding neighborhoods.