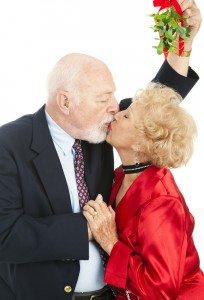 The holiday season is the kissing season. You never know when you might find yourself under the mistletoe. Since the opportunity to steal a kiss could arise at any moment, your Houston dentist, Dr. Deborah Gennero, recommends keeping the following items on hand to ensure that your mouth is always kissabliy fresh.
Breath Fresheners
To guarantee fresh breath at every moment, carry some breath-freshening mints or gum. Most breath fresheners, including mouthwash, will do nothing for your overall oral health, but they may cover up bad breath issues long enough for you to get that kiss. Chewing gum can also promote saliva production, which will help keep your breath fresh. No matter which brand of gum or mints you choose, make sure that they are sugar-free.
Lip Balm
Winter weather can easily dry out and chap your lips. Chapped lips can be both unsightly and painful, and may even bleed. To prevent these misfortunes, keep your lips moisturized. Most lip balms sold in stores will do the job very well. Some contain sunscreen, which will keep your lips from becoming sunburned and reduce the risk of melanoma.
A Tooth-Whitening Pen
Nothing attracts kisses like a mouth filled with gleaming white teeth. While many products promise to whiten teeth, none will do so as effectively as the professional products from your Houston dentist. Once your teeth are white, you'll want them to stay white. A whitening pen can maintain your white teeth. The pen is not a substitute for professional whitening, but it will keep them gleaming after the procedure.
A Healthy Mouth
No matter what products you carry with you to touch up your smile and breath, they cannot be fully effective unless your mouth is already healthy. Practice good oral hygiene at all times. Brush your teeth at least twice a day using a soft-bristled, ADA-approved toothbrush that is less than three months old. Brush for at least two minutes. Don't neglect to floss. Using an 18-inch string, clean between every single tooth to dislodge plaque and food particles. Those actions should help prevent tooth decay and gum disease. Brushing or scraping your tongue is important, as well. The tongue is a prime source of bad breath. By keeping it clean, you may not even need those breath mints.
Your Houston Dentist Can Help Your Smile
Don't forget to see your Houston dentist every six months for a checkup and cleaning. Contact our  Houston dentist office at (281)578-6200. We are proud to offer comprehensive dentistry to patients from Clear Lake to The Woodlands, including Katy, West Houston, Sugarland, the 77084 zip code, and surrounding neighborhoods.