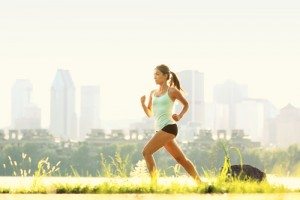 The most frequent New Year's resolutions people make usually involve weight loss. Not only is losing weight good for your heart and waistline, but dropping pounds also benefits your dental health. In today's blog, Houston family dentist, Dr. Deborah Gennero, explains how weight loss can help improve and protect your smile.
Exercise and Vitamin D
A key component of getting in shape is exercise. While the gym provides all manner of complicated workout machines, a nice jog outside offers fresh air and a necessary shot of vitamin D.
When we spend time outside, the sun's UV rays allow our body to absorb vitamin D. This vitamin aids in the absorption of calcium, which strengthens bones and teeth. Vitamin D also increases the numbers of the beneficial antimicrobial peptides that help fight harmful bacteria in your mouth.
Since winter is still bearing down on us, time in the sun can prove difficult. Thankfully, there are other sources of vitamin D, including supplements, fish, egg yolks, cereal, juices, and fortified dairy products.
Protect Your Smile with Proper Nutrition
Exercise is great, but to really lose weight and get into shape a proper diet is essential. Good nutrition allows our bodies to run at optimal efficiency, giving us more energy and protecting our teeth. Foods and drinks high in sugar and other starches not only pack on pounds, but can also leave our teeth vulnerable to tooth decay. Bacteria will break down sugar and food particles in our mouths, increasing oral acid levels. These acids weaken our enamel, which is our teeth's major defense against the formation of cavities.
Avoid candy and sodas, and replace these unhealthy snacks with fruit and water, to help keep your smile bright. Another simple tip for avoiding the urge to snack: chew sugar-free gum. Chewing gum controls snack cravings and stimulates saliva production. Saliva is our body's natural means of neutralizing harmful acids and cleansing the mouth of bacteria and food particles.
Schedule an Appointment with Your Houston Dentist
In addition to diet and exercise, regular checkups and cleanings protect your teeth and help prevent dental problems. Call Dr. Gennero today for a consultation by contacting our Houston dentist office at (281) 578-6200. We are proud to offer comprehensive dentistry to patients from Clear Lake to The Woodlands, including Katy, West Houston, Sugarland, the 77084 zip code, and surrounding neighborhoods.