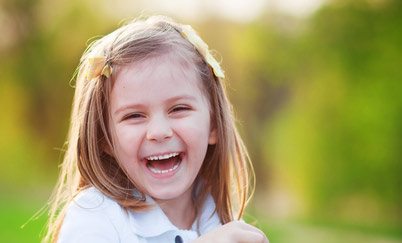 You've taught your little one how to floss teeth and brushing teeth correctly. You encourage her to make healthy food choices and avoid sugary drinks. Now it's time to complete her dental care with a trip to your caring and friendly family dentist. Dr. Deborah Gennero has a special love of pediatric dentistry and deeply enjoys watching her youngest patients grow into healthy, confident teens and adults.
How Can Visits to the Dentist Help Improve My Child's Health?
Providing preventive care for your child's teeth can help her health in a variety of ways. First, a gentle and thorough dental cleaning by our hygienist helps remove plaque and tartar buildup that brushing and flossing cannot reach. Second, a comprehensive examination by Dr. Gennero will help to identify the early signs of tooth decay known as demineralization. Should she locate demineralized areas, Dr. Gennero may apply a dental sealant, a thin layer of plastic which protects the teeth against decay. She may also recommend fluoride treatment. These treatments help remineralize the enamel and strengthen your child's teeth.
Finally, regular checkups with a child-friendly dental practice help your little one create positive associations with visiting the dentist. We help encourage healthy habits and good oral hygiene so that we can help set the stage for a lifetime of healthy teeth and gums.
Contact Us
To schedule an appointment with Dr. Deborah Gennero, please contact us today. A Houston dentist, Dr. Deborah Gennero proudly provides restorative and cosmetic dentistry to the entire Houston area, including  the Park Ten Energy Corridor, Clear Lake, The Woodlands, Katy, West Houston, and Sugarland.