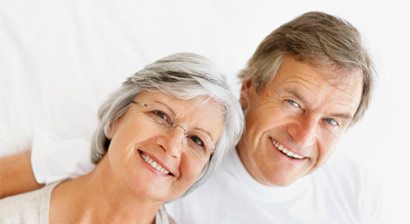 Since ancient times, people have used every material imaginable, from seashells to carved rocks and pieces of walrus tusk, to replace their missing teeth. These crude dental prosthetics were  highly unsanitary and while they may have temporarily improved the appearance of a person's smile, they usually did not have the stability to restore proper function. Even as recently as the early 20th century, dentures looked more realistic but often did not fit well and did not improve the wearer's ability to chew and speak normally.
These days, we have all the benefits of science and the most advanced dental technology to create hygienic, well-fitting, highly realistic looking dental prosthetics. Today's dentures, partials, and implants do more than just help you look good. They allow you to speak, eat, and enjoy life with security and confidence.
During your initial prosthetics consultation, Dr. Deborah Gennero will talk to you about which dental prosthetics best fit your goals and lifestyle needs. She then takes accurate impressions and develop a facially-generated treatment plan based on 18 digital photographs of your face and teeth. These measurements will help her provide you with the best fit possible.
Dr. Gennero and her team of highly skilled dental professionals offer:
Contact Us
To schedule an appointment with Dr. Deborah Gennero, please contact us today. A Houston dentist, Dr. Deborah Gennero proudly provides restorative and cosmetic dentistry to the entire Houston area, including  the Park Ten Energy Corridor, Clear Lake, The Woodlands, Katy, West Houston, and Sugarland, Texas.