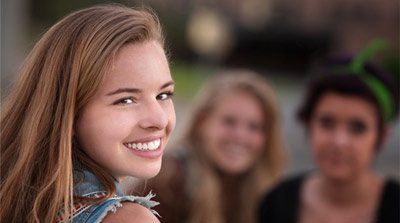 HOUSTON COSMETIC DENTIST STRAIGHTENS CROOKED TEETH
How Can Orthodontics Improve My Dental Health?
Nearly 75% of American adults live with overlapping teeth, crooked teeth and uneven crowded teeth. Most of those adults needed braces when they were younger but, for financial or lifestyle reasons, did not get the orthodontic treatment they needed.
In addition to making you feel self-conscious and even embarrassed about your smile, crooked teeth and a bad bite can lead to a range of serious oral health issues including periodontal disease, TMJ disorders, increased risk of tooth decay, damage to the soft tissues of the cheeks and tongue, and worn enamel.
Dr. Deborah Gennero offers the clear aligner therapy known as Invisalign. She favors this highly successful proven and predicable adult ortho care to others like Six Month Smile and ClearCorrect. This type of orthodontics can correct crooked teeth and most bite problems and help you avoid the pain and cost of invasive dental work. And because they're clear, you'll look fabulous for the duration of your treatment.
What Can I Expect from Invisalign Therapy?
Invisalign consists of a series of custom-fitted, clear, plastic aligners that fit over your teeth and gradually move them into a correct position. You wear Invisalign all the time except when you eat, drink, floss, and brush. If you follow the treatment plan closely, you will likely only wear Invisalign for about 12 months.
Contanct Us
To schedule an appointment with Dr. Deborah Gennero, please contact us today. A Houston dentist, Dr. Deborah Gennero proudly provides restorative and cosmetic dentistry to the entire Houston area, including  the Park Ten Energy Corridor, Clear Lake, The Woodlands, Katy, West Houston, and Sugarland