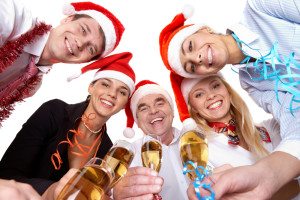 The holiday season is a prime time for serious eating and drinking. It's very common to gain a few pounds of solid holiday cheer in December. Work parties, friend parties, family parties – there is bound to be a plethora of sweets, treats, and even more than a few adult beverages. Red wine is festive and soothing on a cold winter's day. However, Houston TX dentist, Dr. Deborah Gennero, wants you to be concerned about foods and beverages like red wine that can cause dramatic teeth stains which make you look older.
Stains on the Outer Surfaces of Teeth
Teeth stains are classified into the two categories: intrinsic and extrinsic. Stains that occur on the surface are called extrinsic. Teeth whitening treatments are targeted at the extrinsic stains, as they will not reach the internal structure of your tooth's dentin. Surface stains (which are the most common) can luckily be lifted quite easily with professional teeth bleaching. Just don't forget that the holiday red wine, cranberry juice, candies with red dyes, peppermint lattes (or any coffee for that matter) and any dark foods or beverages will cause a higher rate of extrinsic stains.
Treating Intrinsic Stains
Stains that are initially internal may be the result of overexposure to fluoride, dental injury, or a reaction to various medications. Because intrinsic stains cannot be whitened away, porcelain veneers are one of the most versatile treatments for covering up these sorts of stains. Dental bonding is a simpler procedure if your stains are localized to a small area. Tooth colored composite resin (the same material used in white dental fillings) can be placed on dark spots, shaped, and cured to a hardened cover. If you only have one or two teeth affected by an intrinsic stain, a dental crown or cap might be a good method of treatment. All of your options can be discussed with Dr. Gennero at your initial consultation.
Eradicate Tooth Stains with Houston, TX Dentist
Do you dream of a whiter smile? Contact your Houston, TX dentist, Dr. Gennero, today at (281) 578-6200 to schedule an appointment or a consultation. Our 77084 dental office gladly treats patients in Clear Lake, The Woodlands, Katy, Sugarland, and surrounding cities.