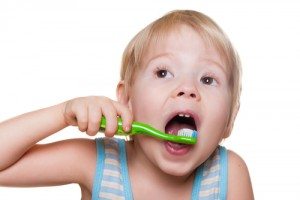 To keep their smile beautiful, your children's teeth require constant care. Many parents don't realize that dental care for their child can begin as early as one year. In today's blog, your Houston children's dentist, Dr. Deborah Gennero, explains how to protect your little's one smile.
Importance of Prevention
Dr. Gennero understands that preventive dentistry is the best method of safeguarding your child's smile. With proper dental habits, parents can help their children reduce the risks of developing tooth decay and gum disease. Once the first baby tooth erupts, you should begin cleaning your little one's teeth with a wet cloth or gauze. As they grow older, upgrade to an age appropriate toothbrush. Let them pick out a brush with a favorite character on it so they feel involved in the process. Establish a routine, brushing twice a day using a non-fluoridated tooth paste. Instilling good dental habits at an early age helps your child maintain healthy teeth and gums.
Proper Nutrition
A balanced diet not only improves your child's health, but proper nutrition aids in the prevention of cavities. Try to avoid foods and drinks high in sugars and other starches. Bacteria in your child's mouth break down sugars and food particles, which increases the presence of oral acids. These acids weaken tooth enamel, and over time, leave teeth vulnerable to tooth decay. Replace candy and soda with fresh fruits and water.
Checkups and Cleanings
When your child visits Dr. Gennero, she can ensure teeth are coming in correctly and watch for warning signs dental issues. Early detection helps prevent the need for costly and invasive procedures in the future. Dr. Gennero can also offer fluoride treatments to increase to the strength of your child's tooth enamel, and provide dental sealants. Composed of special plastic resin, sealants are applied to the teeth most susceptible to teeth decay and hardest to reach when a child brushes. Dental sealants can assist in avoiding  tooth decay.
Schedule an Appointment with Your Houston Children's Dentist
Remember, attending regular checkups and cleanings with your Houston children's dentist can help protect your child's smile. Call Dr. Gennero today for a consultation by contacting our Houston dentist office at (281) 578-6200. We are proud to offer comprehensive dentistry to patients from Clear Lake to The Woodlands, including Katy, West Houston, Sugarland, the 77084 zip code, and surrounding neighborhoods.