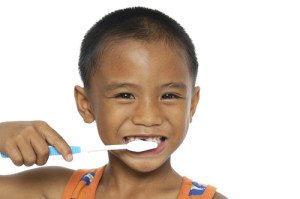 Parents often have lots of questions regarding their little ones' dental care. Ensuring your children have healthy and happy smiles can seem intimidating. Thankfully, your Houston dentist, Dr. Deborah Gennero, is here to address some common questions and concerns about caring for your child's smile. In today's blog, Dr. Gennero answers some frequently asked questions regarding our approach to children's dentistry.
Frequently Asked Questions About Children's Dentistry
Question: When should my child attend his/her first dental appointment?
Answer: Usually, once the first baby tooth erupts your child should see Dr. Gennero. Typically, this happens around age one. With the first visit, Dr. Gennero helps your child become accustomed to the office and makes sure your little one is meeting his/her dental milestones.
Question: How often should my little one see Dr. Gennero?
Answer: According to the American Dental Association, starting at around age two and a half to age three your child should start seeing Dr. Gennero once every six months. For some patients, Dr. Gennero may recommend more frequent visits.
Question: Are checkups really that important?
Answer: Yes! A checkup allows your Houston children's dentist to watch for any signs of developing dental issues, such as misalignment or tooth decay. Early detection enables Dr. Gennero to provide immediate treatment, helping your little one avoid costly and invasive procedures down the road.
Question: How do dental sealants and fluoride treatments protect my child's smile?
Answer: For teeth especially vulnerable to cavities, Dr. Gennero may prescribe fluoride treatments, which strengthen tooth enamel to help prevent tooth decay. Dental sealants are thin layers of plastic material that Dr. Gennero places on the back molars. These teeth are hard for children to reach when brushing, which allows food to become stuck and increase the risk of cavities. Sealants prevent food from adhering to the surface of the tooth.
Schedule an Appointment with Your Houston Children's Dentist
Is it time for your child to receive a checkup from Dr. Gennero? Make an appointment with your Houston children's dentist today. Dr. Gennero offers the latest in general and children's dentistry. Contact our Houston dentist office by calling (281) 578-6200. We are proud to offer comprehensive dentistry to patients from Clear Lake to The Woodlands, including Katy, Houston, West Houston, Sugarland, the 77084 zip code, and surrounding neighborhoods.